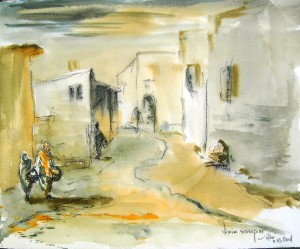 When a person is eager to learn all they can about watercolor and art and even copies from paintings in a book, it is a privilege. One thing to be sure to do when you copy is to put the name of the original artist along with your own name.
About 10 years after I did such a thing, I got a call from someone who owned an antique store and said they bought a painting of mine from an estate sale and said I copied it!  They said I copied it from David Millard. I was sure glad I was safe and not in trouble!  This particular painting was really fun to do because it was done with just two colors, and a charcoal like pencil of a foreign street scene.  I did two of these scenes, sold one and kept one.
The painting was bought by an old neighbor of mine and when she passed on it ended up in an estate sale and that is how it ended up in an antique store. You just never know!