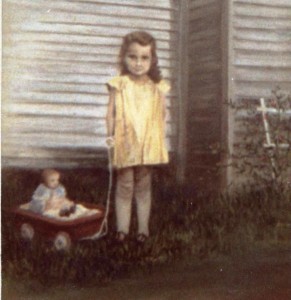 Before I moved back to CA, I was commissioned to paint from a 4″ x 6″ black & white photo of Liz Merryfield's little sister, and paint it in color on a large canvas with oil paint. The little sister died of cancer when she was 37, and in this photo she was just 7 yrs. old. It took me 3 or more weeks to finished the painting and delivered it to Liz on my next trip to MO in 1981.
I was asking $800. for an 18 x 24 canvas of realistic work. I had to find out what color the dress was, what color the stockings were in this photo taken around the 1930's.  The next day after delivering the painting, Liz said she couldn't live with it. I was devastated, tried to lower the price, no, money was not the issue, even if she hadn't paid me yet. It took her an hour of 'beat around the  bush conversation' to try to explain to me the emotional issue of the painting being so real, it was like having a ghost in the house!  I should have kept a copy of the original photo to prove how real the painting looked!
When Liz gave back the painting, she suggested I put the painting in a gallery or an art show. I was very frustrated and hurt, but was nice about it, after all, this was my mom's best friend! I was very resentful and it did take some time to get over it.
As an artist I should have collected a down payment (non-refundable) for doing a portrait. But, learned the hard way. Later in life I found out that professionals do business this way, and that way there is not a total loss for the work put into the painting.
My mom died about 10 yrs ago, I flew to MO for the funeral. Guess who put on the family dinner? Liz! A very fancy dinner in deed! I was so impressed. Liz was an expert and had a lot of experience since she did all the banquets for the church.
1982, we moved back to CA, and I found a doll shop in El Cajon where I was able to get the painting in there on consignment. It hung there for 2 yrs. and never sold, but the place caught on fire and burned down! Their insurance covered the value of my painting and I got a check in the mail. So, the painting wasn't a total loss and I was glad that that painting was gone!
My mother-in-law said she loved that painting and if she had a house big enough she would definitely hang it in her home. So I gave her the only little photo of it and put a mat around it and she hung that in her small mobile home.
Ten years went by, a big box was delivered to me from Missouri. It was a beautiful quilt/coverlet that Liz had made to make up for her not paying for or keeping the painting of her little sister. I was so surprised! It is flawless, and expert work and I know that she is a blue ribbon winner at the county fair for most of her quilts.
She worked on pieces of this quilt while traveling with her husband around the world, and took her time getting all the embroidered sampler image on it and I just love it. It is the perfect summertime cover to have on since it is all very nice cotton.
Right a way I sent her a thank you note and accepted her token of apology. It was God's grace that helped me through this anger and resentment that I suffered, and through experience I have always known that God's grace comes with surprises!
This quilt has been the most comfortable for us to use in the summer time because it is made of very nice cotton. In this picture it was used as a wall hanging because at this time we didn't have a head board for our bed and it looked good that way in this very large master bedroom.
I apolgize for poor photo quality of  these two images.  They were taken before digital photography.  That's my first little dog, Chiquita on all my pillows, and this is only a portion of that quilt.  It was queen size.  I will always cherish it even if it reminds me of a bad situation, but also of a blessed surprise.