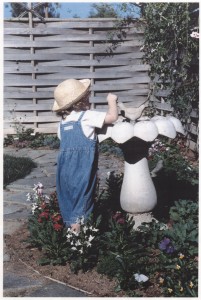 One day I was in the Secret Garden at Summers Past Farm, where I go to paint. It is a very pleasant place to visit if you like country gardens and relaxing places. They have a herb garden and a lavender field and all kinds of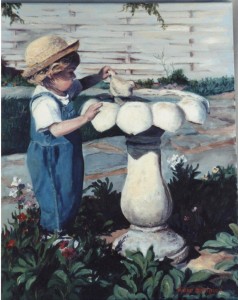 things that give you a nice retreat area to get a way from it all.
So, back to the Secret Garden. There is a birdbath in there and I found a darling little girl trying to touch the bird statue that was in that birdbath. I asked her mom if I could take her picture. In my heart I said to myself,"God, I want to have a cute little grand-daughter some day." Well, a year later, I got one, and she is a blonde, named Hannah, who just turned 13 this month!  Boy, is she ever a cutie!  Not only that, she's very smart too.
I did a large oil painting of this little girl by the birdbath, and then later did a watercolor of it. How odd it is, this birdbath has never looked as nice as when I captured it that day.  It has been covered with lush geraniums since then and I never saw a cute little girl in that garden like I did the day I got the photo taken. I forgot to ask that mother what her little girl's name was, so was not able to contact her to show her this painting.
In this photo you can't see the girl's face, that's because I can't find the very photo that I painted from, but you get the idea here.  I have been painting at Summers Past Farm for over 10 years now.  They sell my cards and paintings in their gift shop. What a privilege I have, I will tell you more in the following stories.