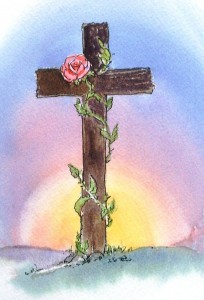 It's Easter morning and I'm thinking of a watercolor that I was commissioned to do for the poetry book my friend had published. Wings of the Wind, by Diana Taylor. She is so talented with words and I am very amazed at the way she can put together such beautiful expressions.  She told me she was amazed with the way I put together such beautiful colors in my images. Thus, two artists working together!
I have the original watercolor image pictured here to show you what I came up with for her poem, The Christmas Rose. I was asked to portray a rose on a cross and so the idea of a sunrise setting was my creation. For most of the images in the poetry book I was given suggestions as to what to paint but I am thrilled with what I was inspired to create for this particular image.
The one thing I have learned about publishers and having copies done of my art work is that they don't always print the colors right and may come up with their own color scheme.  If you ever see the book then you will know what I mean. But, at least I had to privilege to get my work published and I consider that an honor, especially having it with such a wonderful writer as Diana.
If you do not know of the Rose of Sharon, I would encourage you to 'google' those words and find out about this image of a rose on the cross. It is very interesting and the information on line is very good.
You can find out more about the book and other books by Diana Wallis Taylor at www.edgeofthewell.com