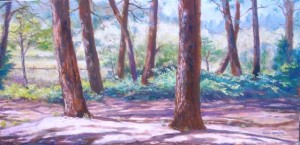 For this post I want to share what I just painted last week. It is so much fun to digital and take lots of pictures not having to worry about getting prints or how bad some turned out. I love my digital camera so much and use it a lot.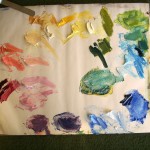 By the way, before I forget, I saw the cutest plaque to hang on my wall, it said, "Everyone has a photographic memory, some of us just don't have any film!" I don't know who wrote that but it struck me funny!
Anyway, one of my favorite ways to do an oil painting is to use a red canvas and mix 2 or 3 tints of each color on the palette which is using a cool and warm of each primary color, red, yellow and blue, plus white.
About 4 years ago, I took a photo of the view from our condo that we stay in when we go to Pinecrest in Twin Peaks, CA, and was glad I had it to paint from, since the photo was taken, the trees in the foreground are all gone, have been cut down!!! This is something that usually happens to what I have chosen to photo or paint.


Here is a picture of the palette after I was finished with the painting which as you can see looks like chaos! And, the you can see the painting  that came from that palette, and I hope you enjoy seeing what I did.  This story should be titled, These Trees, they are now gone and were cut down because of beetle infestation.  I loved those trees because each one of the trunks expressed an attitude and none were just straight even though they were all verticle.