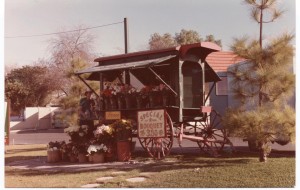 A long time ago there used to be a flower cart on the corner of Washington and Magnolia in El Cajon, CA. I took a picture of it so I could do a painting of it and showed it to the man who worked at the cart, but he wasn't interested in the painting.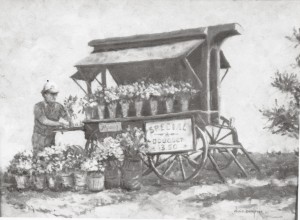 I decided to post this story because it is  evidence of what I paint, something happens!  Well, not only did the flower cart disappear, but my photo of it in color has disappeared. I have gone through my stash of photos and such in my studio and albums and cannot find anything but the original photo I took of Fritz and the photo of the painting in black and white, which is rather odd because I usually don't take b and w photos and then I found a
polaroid of the beginning of the painting as it was  on my easel. It shows that I started the work on a red canvas and sketched in charcoal.
This is one of my favorite ways to paint in oils.  I was taught 20 some methods on how to do an oil painting while I was in art school in Louisiana.  It is very interesting that many things that I have painting have a history of disappearing or changing drastically.  Or, even the painting itself might disappear!  I have had paintings stolen from where they were displayed and will share some of those stories in a future post.