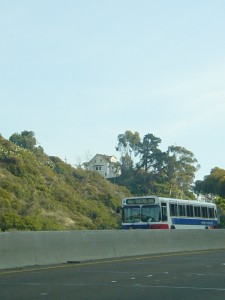 One of my favorite perspectives to use in my paintings is the upper view.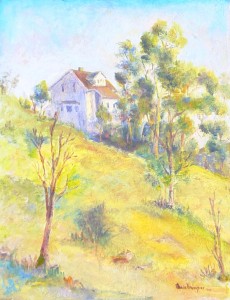 After living in the flat swamps for ten years, not able to see beyond the trees, I find it very interesting to look up and see what is up above the trees now that I live in the San Diego area. There are so many great views and scenes to see around this part of the country. So with so much to chose from, I found that I was always selecting a scene for my paintings that made me look upward.
On the way up the hill on Hwy. 163 to Hillcrest I could see this old two-story house that looked so much like the one I grew up in. I was determined to do a painting of it somehow, but there was no way to pull over and get a shot of it with the camera. I drove up the hill every Sunday on the way to church and took note of just how the lighting would be during certain times of the year and how the landscape was different in each season.
After observing this particular house for over a year, I knew just when it had the best lighting on it to make it a nice painting. So, with my digital camera all set and ready to go, I clicked while I was driving! Hooray! I got a good shot! No, I don't ever text while I'm driving and it is against the law to even be on a cell phone while driving, but after a year of observation, I knew exactly when and where I could get a good shot of that view that I wanted. I was glad the traffic was light while I drove up that hill on Sunday mornings.
When I painted this scene I chose one of the palettes and methods that I learned in art school, using pastel like colors for the underpainting and then glazing it later with colors that were transparent. I loved the effect and so did someone else who bought it!