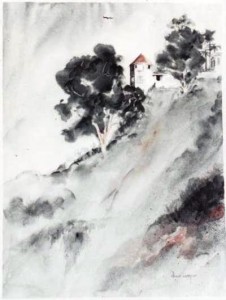 This is about that black and white watercolor that didn't show up very well in the previous story that I posted.   It is not easy to paint a scene in front of you with no colors to use, but a good exercise for an artist to just look at dark and light values and make a great painting of what you are looking at.
Well, there was this particular place I so badly wanted to go to and paint, and it wasn't a safe place to be at all by myself, so my husband was so sweet and willing to go with me.  I had to go to this place down in Mission Valley and paint from a large parking lot on a Saturday when it was vacant, and no one in my way.  The towering resident up above this place was my chosen subject.
Oh, no! we drove all the way to this place and I forgot my palette!  Well, I at least had my basket of all my painting gear and in there I always keep a tube of black watercolor.  I never use black on my palette because I would rather mix a black from the colors that I am using in a painting, but if I need the black like the black in the tube I can use it if I wanted to.  It was too far to drive all the way back home to get my palette, so I made do with what I had and loved the way the painting turned out, and I knew I could come back another time and be sure I had my palette with me!  And here is the painting that I did when I had my palette with me, so thrilled about that, I went wild!
When I got home (with the black and white painting), I used just a little bit of red to paint on the roof of this particular resident in this painting and that just finished it to a T! As you can see, I also used an 'echo' of the red here and there. My dentist, Dr. Fleming in Ocean Beach owns this painting and it looks very nice in his clinic.  I have more stories to tell later about this particular view in the painting.