In my studio there are things that my granddaughters can play with. One of their favorites is an overnight suitcase that I have had since junior high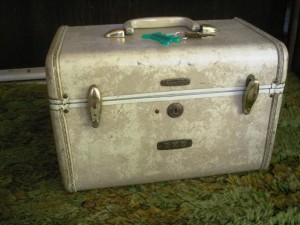 school,  and it has my initials on it, DKB.
The girls love to pretend they are going on a trip and I gave them a key to use for the suitcase which has a green tag on it that I got from my dog's groomer at the Doggie Station.
Sad to say, the girls lost the key and couldn't remember where they put it and I looked for months for it, combing through everything in my studio to try to find it.
One day it dawned on me that it might be put in the little pet carrier of one of their dolls that stands on display right by the doorway. Every time I walked into my studio I would think, where oh where could that key possible be, it could be so visible with the bright key ring it was on, which was in the shape of a doggie bone. Well, guess what? It was hidden underneath the little pet in that pet carrier! Here I had been walking by it every time I came and went into the studio!  I even looked down in the doll chair for it.
The best part about losing something like a key is that it makes you clean out boxes of toys, go through all your stuff and clean out from under the furniture and stuff. And the better part of having lost this key is that my husband didn't break the lock on the suitcase as he was trying to fiddle with it, and I'm glad that I didn't pay a locksmith to open it for me! I don't use  this for my trips anymore, but liked having it for my girls to play with, I could have just done without the key.
There has been a missing decorative box that my girls usually played with, I don't remember if I put it in a garage sale or not, but I thought maybe it was locked up in that suitcase. No, it wasn't, there was only a paper towel in the little suitcase!