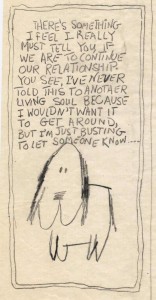 I met my husband in college in 1962. One of the funny things about him was that he could wiggle the top of his ears!  He taught me  how to do it and it was fun! What a coincidence,  I found a greeting card that said something about that. It was the current type of funny card from the 60's, tall and slim, and I found a sketch of it here… I can't find the original card, but when you save a bunch of your old sketches and art work and get it out in later years, it's fun to look back and see what all you still have in your portfolio.  Such memories.
I love to show some of my beginning work to my students so they don't think I was wonderful from the first works on. Everyone needs to keep their old work to see the progress that develops through a lot of practice.  Of course, I have thrown some of the old stuff away, and lo and behold, a friend, Lee Opitz came over one day and just happened to see what was in my trash and she pulled it out and wondered why in the world I didn't like a certain watercolor, so she took it home to cherish it!
We now have a little schnoodle dog, Mitzi.  She likes to wiggle and shake her ears and so we can hear her coming from the other room because that is usually when she wiggles her ears with a message that says, "here I come!"  My husbands says that her ear wiggling is actually a flapping sound.  Can you wiggle your ears?  That is, without moving your head?  Or, using your hands. It is an amazing physical therapy. I learned from Jack that if you ever get nervous when giving a speech in front of a crowd, just wiggle your toes.  He said he learned that when he was taking flying lessons.