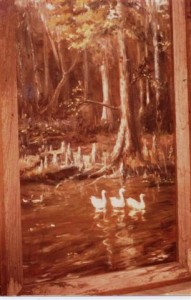 When all I had was my kitchen corner to paint in I could also cook dinner while I worked on a large 30 x 36 inch canvas on my easel! I young then and had a lot of energy and was eager to get this particular painting done to put in an up-coming show.  It was the show during the Shrimp Festival when there were a lot of tourists in town and I was the only artist who sold anything! The Hilborns frome Texas bought my painting and it made all the other artists jealous of me, plus they were mad because the paintings were suppose to remain hanging until the end of the show, but the Hilbornes were visiting from Pasadena,TX and had to leave that day to get home.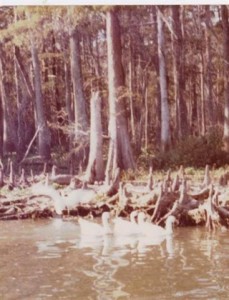 I look back at this painting that I did (dated 1977), with so much eagerness and exuberance (photo not the right colors, has faded and turned orangey color), and wondered how I got supper cooked with two young kids around. Those were the days!  I could paint a lot of large paintings and manage to run a house and get all my work done and take care of my kids at the same time. And to think that I did that large canvas with only this small photo I took of the swamp.  Cypress knees were so interesting, and it was unusual to find some ducks floating around.  Just think, this is in the area where the Tarzan movies were filmed many years ago. The swamp is like a jungle, after the Spring time you can't even see past the trees it is such a thick landscape.
Now a days I know how to take better photos of my paintings and am glad that digital doesn't fade. At least I know how to scan the old photographs and can share them in my stories.  I am all through with my stories from Louisiana (unless one comes back to my memory!) and am ready to post some stories about my days back in my home state, California, starting in 1982.  San Diego has offered a lot for me to have in the way of experiences with art and painting.  I have had a lot more opportunities with watercolor, something that was hard to do in the swamp land, it is always wet!  Very few of my watercolors were done wet into wet because it took too long for the wet areas to dry in order to paint onto.