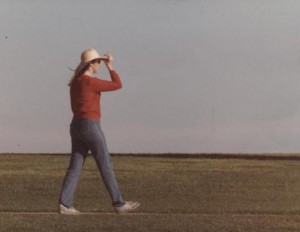 Do you see all the triangles in this painting?  It was rather unique how I came across them and I'm not one to draw out those type of structures, but when I looked at this photo of Myra Brandt who used to work with my husband, I thought this
would make a good subject for a painting.  I entered this painting in a show and the judge knocked it, but, each judge sees things differently.
It was fun to capture all the detail in this simple photograph which was taken at a company picnic many years ago, probably in the early 1980's.  It is an oil painting, 16 x 20 canvas.  Of course, the photograph is old and not as colorful, but you can see where I am coming from with the subject. I have learned not to buy art books that want to teach you something, and then show you how a painting was painted, but never give a reference of what the artist was looking at to make that painting.  I like to see how they were seeing and know what they were looking at.  That way you can see what was eliminated from the scene,  or what was emphasised in the painting.