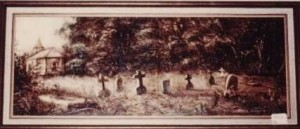 I don't remember where I took this photo of an old weathered church with a grave yard in the back area, but I just knew that one of my methods of using oil paints would do great for the effect that I wanted. It is an oil painting, using what my mentor called the 'Snowden' technique.  My mentor, Dotty Billiu had many ways for how to do oil paintings and this is one that I enjoyed.
It is a masonite board that is gessoed, then has a layer of Shiva Underpainting White
put on it with a painting knife. Then you let that dry for 6 months!   Then you use burnt umber with a lot of turpentine to cover the board and while it is wet, wipe out the light areas and form the shapes and lines to bring about a painting. I always had some of these boards prepared so when I was ready to do a Snowden, (named after Charles Snowden of Texas) I could get one done. I have kept a few of these paintings, but they always were good to sell. This particular painting of the grave yard was bought by my dentist, Dr. Wm. Barletta. I'm glad I kept a photo of it, and have the original scene of the grave yard. One thing about the south part of LA, they have most of the burials above ground which was new to me, being from California.  Most of the graves are above ground because there is a lot of water in the southern swamps of LA.  In this photo, there is only one above ground.