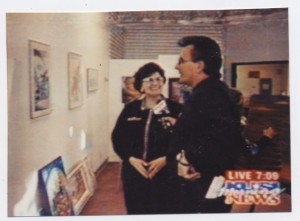 I am a member of the East County Art Association and when we had our gallery on Main Street in El Cajon, we got to be on the news, KUSI.
Mr. Rod Luck came to interview some of us that early morning and I felt so privileged to be selected to be one of the artists that he spoke to.  That was a fun moment as an artist to be on t.v., but not so fun having to get to the gallery at 5 a.m. for this event.
As he was looking at my painting I don't even remember what he asked me or what was said!  I thought it was cool how he kept busy in between broadcast moments doing his crossword puzzle so he didn't  have to talk to any one.